Castle – parcour castle
Located 20 km from Toulouse, the Château de Merville and its park are a unique testimony to the architecture and art of the 18th century gardens, in
Midi-Pyrenees.
The Castle and its Park are classified as Historical Monuments and the Labyrinth labelled "Remarkable Garden".
Continued in 1743 by the Marquis de Chalvet, the castle passed to his son André-Antoine, who, although thrown into prison under the Terror, managed to keep his head but also his castle! Luckily, Merville retained its furnishings and decor. André-Antoine's granddaughter brought Merville into the Villèle family, and the house passed by inheritance to the Marquis de Beaumont du Repaire, from whom the current owners were descended.
The furniture of the castle is original. The sofas with their seductive curves were even designed for the location they still occupy today in order to fit perfectly into the overall composition. Around this large central room, other salons unveil wonders that have fortunately been able to reach us without any damage. Many Flemish tapestries from the end of the Renaissance recreate episodes of mythology in a meticulously studied vegetation.
The former dining room, now an office with a very original Flemish cabinet in olive wood, still has a series of door tops evoking the few known works of Jean-Baptiste Van Loo. Inside these doors, family members are represented in the form of allegories of the seasons. Spring thus takes on the features of the seneschal's son, André-Antoine, who preserved the castle at the time of the Revolution, Summer those of Madame de Chalvet, while Autumn is represented by the seneschal himself, the role of Winter being reserved for Uncle Louis-Henri, the generous Grand Prior of the Order of Malta.
In this friendly setting, the French-style beds, which have retained their marvellous 17th-century trim, blend elegantly with the rock consoles with heavy marble tops.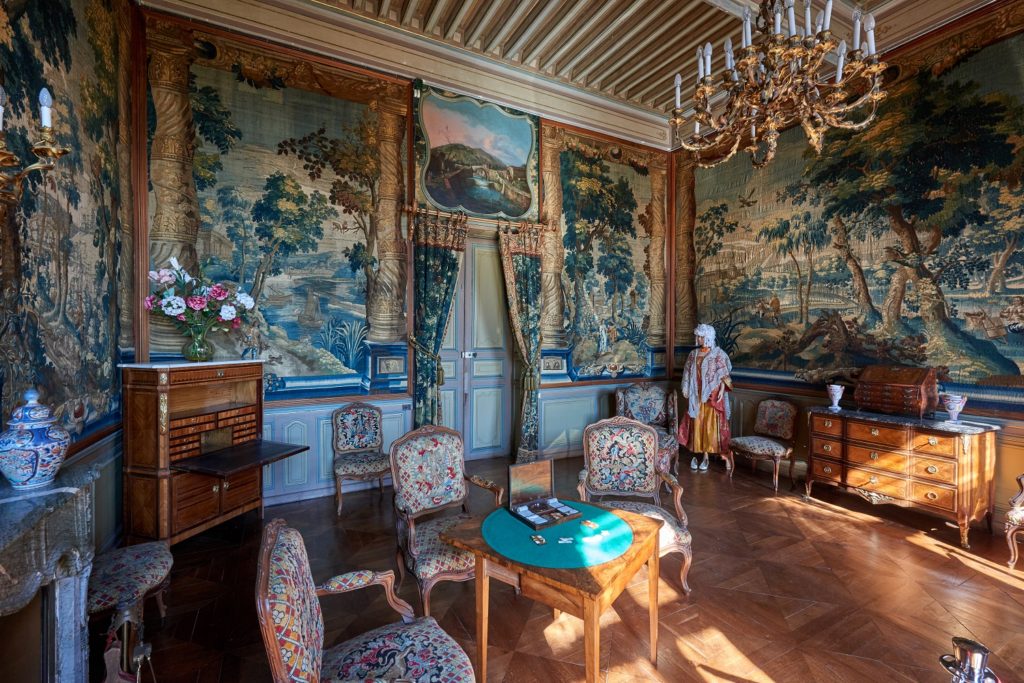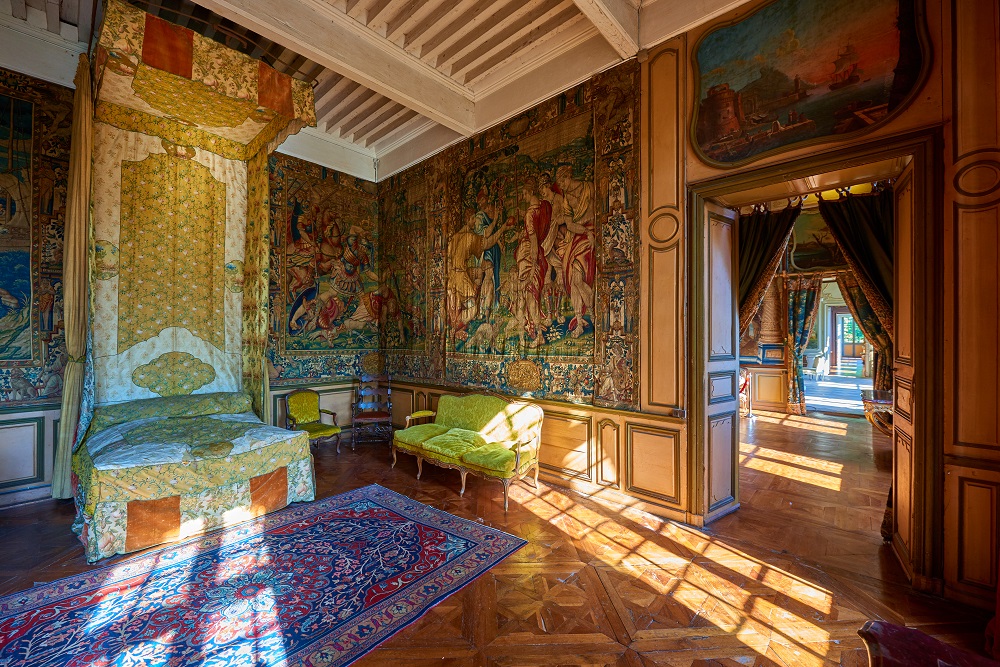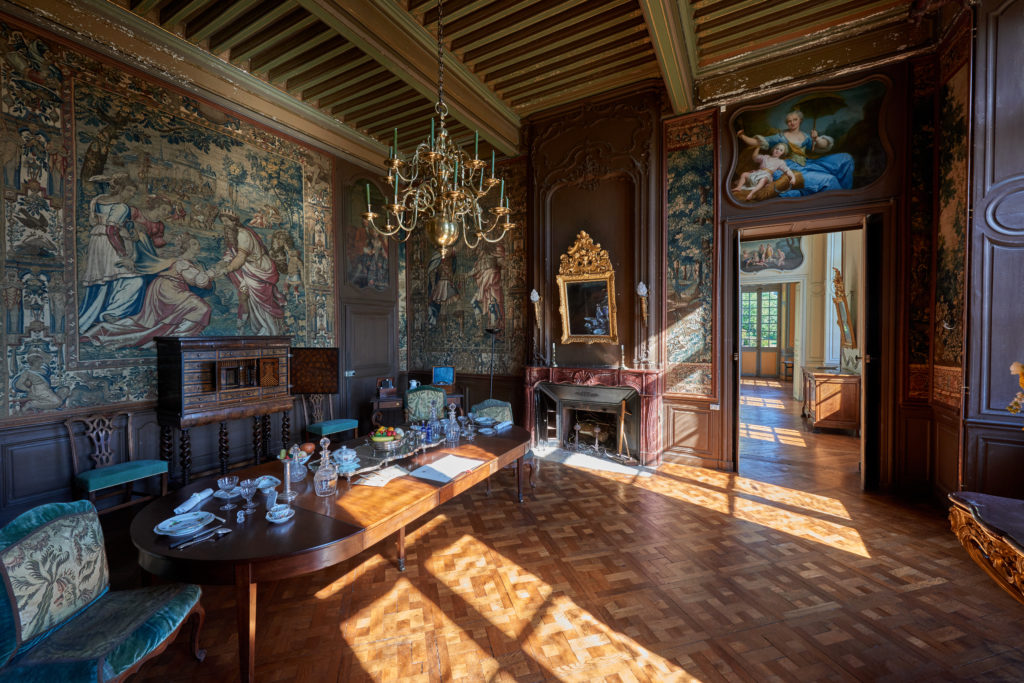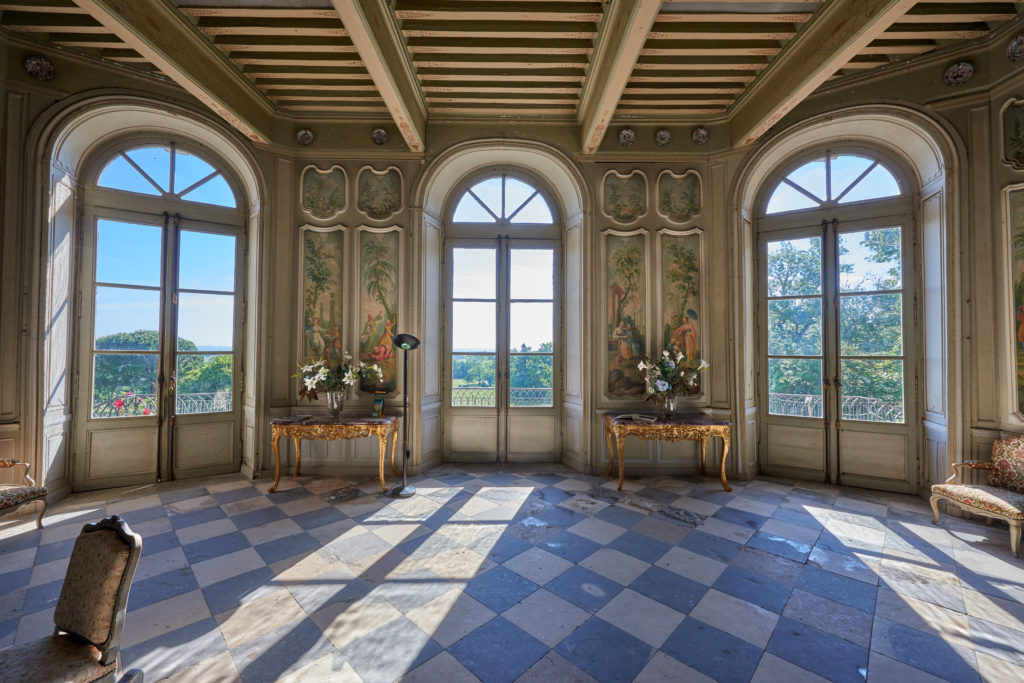 Reisen Sie mit Ihrem Smartphone die Zeit zurück!
Le Labyrinthe de Merville offers a new experience of visiting its gardens thanks to a mobile app
The "Merville Labyrinth" mobile app is available for free on Apple and Android.
From the Chinese Salon to La Salle de Bal, from Boulingrin de Verdure to l'Étoile, from the Cour d'honneur to the former Orchard, this new app invites you to enrich your visit to the Merville Labyrinth and its Castle. With audio, video, photos, games and archives found at the Château, the app traces 250 years of family history of these enchanting places, and allows you to discover this exceptional heritage in a different way.
The "Labyrinthe de Merville" app is added to the guided tour and free wander around the Parcours castle, offering a complete range of cultural and fun discoveries: "in real life" and multimedia.
An unprecedented, educational and fun visit to the gardens of the Château de Merville. Depending on your itinerary, discover the history of the estate, from its construction to the present day.
Adresse : 1175 Chem. de Grande Borde, 31330 Merville